By George Grant | As affecting as is the image of terrorists crashing into buildings in an effort to take as many lives as possible, the image of firemen rushing into those same buildings in an effort to save as many lives as possible is more affecting still. The worst that evil can do is no match for the best that love can do.
The horrors of the terrorist attacks on New York and Washington transfixed the nation—and ultimately changed the nation. But the stories of rescue workers, co-workers, family members, friends, and strangers were even more arresting—and in the end, changed us more. Who could ever forget the poignant sacrifices of the men and women who gave their lives while helping to save others? Or those who ignored their own exhaustion, hunger, and safety to continue their desperate search for survivors? Or those who searched the hospitals, the shelters, and the police stations for some word of their brothers, mothers, neighbors, or friends? Or any of the other evidences of love that suddenly transformed New York City and Washington D.C. emblems of enduring faith and courage? Or any of the demonstrations of compassion, generosity, sympathy, and charity from across the entire nation in the weeks and months afterward?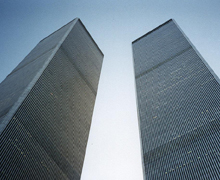 Evil intended to deal a death blow to our national spirit. But love was a healing balm because it always "bears all things and endures all things." Evil intended to destroy life and smother hope. But love was enlivening and invigorating because it always "abides in hope." Evil intended to crush freedom under the rubble of tragedy and despair. But love was able to triumph even in this because it always "covers a multitude of sins."
We must never lose sight of the fact that evil is a very present reality in this poor fallen world. But we must never lose heart. Love remains. And love prevails. Love is the greatest force in the world.
There is no power, no authority, no influence, and no achievement greater than the affection of love. There is no emotion, no desire, no vision, and no aspiration more potent than the sentiment of love. There is no priority, no precedence, no incentive, and no enthusiasm more significant than the motivation of love. There is no fervor, no zeal, no passion, and no inspiration more dominating than the enthusiasm of love. There is no thought, no idea, no concept, and no dream more transforming than the revelation of love.
Love sets the poet to rhyming, the musician to singing, and the artist to painting. The vocabulary of love seems to be overwrought with sentimentalism and cliché—but only because its height and breadth and depth so transcend even our best attempts to describe it that we inevitably resort to the obvious and the familiar. Even so, no other subject has served to stir the imaginations of creative men and women quite like love.
It was divine love that inspired Augustine to write Confessions. It was beatific love that inspired Dante to write The Divine Comedy. It was patriotic love that inspired Chaucer to write The Canterbury Tales. It was romantic love that inspired Shakespeare to write his Sonnets. It was love of justice that inspired Dickens to write Hard Times. It was love of the sprawling American frontier that inspired Mark Twain to write Tom Sawyer. It was love of Christendom that inspired Tolkien to write The Lord of the Rings.
Love has not only always been the most important element in great literature, but in great architecture, great music, great philosophy, and great art. Love is an essential aspect of the human psyche and a central feature in human sociology.
According to the great German philosopher and poet Schiller, "Love can sun the realms of night." Indeed, he argued that love was the single greatest gift to fallen men and nations because "by God's grace, it alone can overcome every obstacle and solve every dilemma." It will, he said, "always find a way."
Love always finds a way to complete that which is lacking in us. Without love we all remain rather unbalanced. Love enables us to tie off the loose ends of our experience, to straighten the rumpled corners of our personality, to darn the frayed gaps in our expression, and to hem the edges of our interest. Love makes us better because love makes us whole. No man is an island—or to the extent that he is, he suffers. Wise men and women have always known this only too well.
Love always finds a way to see us through the darkest days and the most difficult dilemmas. There is no greater solace in times of trouble than the comforts of a love. Somehow those who know us best and love us most can console us without the easy resort to maxims, bromides, or hackneyed stereotypes. Often they can comfort even without words. That is because they really do know us. They understand us. They care for us. All too often the great men and women through the ages were able to achieve what they did only because they had the recourse of love in times of adversity—as their enduring legacy gives vivid testimony.
Love always finds a way to lend us solace and security. A beloved friend or family member is someone you can call in the middle of the night when panic over your new job suddenly sets in, or when the dullness of your old job finally becomes unbearable, or when your diet has just brushed aside by a late night binge, or your bald spot has at last brushed aside your few remaining filaments of dignity—or even when you just need to prove to yourself there is someone you can call in the middle of the night.
Love always finds a way to inculcate diligence. Love doesn't just happen. It must be nurtured over time. It requires a substantial investment of time, energy, and affection. As a result, it ultimately alters who we are and what we do. Relationships require effort. Close families, healthy marriages, solid friendships, and vital communities take work. We must be vigilant. We must be watchful. We must take care not to let the bonds of care to suffer from either the suffocation of too much attention or the degeneration of too little attention. Men and women of accomplishment have thus always taken great pains in initiating and sustaining their relationships. In inculcating and maintaining love they fully comprehended the vital import of diligence.
Love always finds a way to create integrity and transparency. Family members and friends are honest with each another. They hold each another accountable. They stand together through thick and thin. They care for each another despite all the years and all the miles—years and miles that might cause mere acquaintances to drift apart and lose touch. Those who love us are not wowed by the razzle-dazzle or deterred by the dreary-dismal. They take their relationship with us seriously. In short, love is a responsibility. It is a duty. It is something that we do not merely something that we have. It commitment, sacrifice, and diligence—a fact that wise men and women through the ages have always known.
Love always finds a way to sort through what is significant and what is insignificant. There are no perfect families or friendships or communities because, alas, there are no perfect people. All of us have irritating habits, idiosyncrasies, wonts, dispositions, proclivities, manners, demeanors, and quirks. Those who love us must of necessity bear with us in charity and patience. They must have generous forbearance. Likewise, we must reciprocate. Through the ages, the most beautiful expressions of love have not been when men and women have been especially well suited, one toward another, but where they have been especially well accredited, one toward another. They are those instances when love was able to distinguish between what matters and what doesn't.
Love always finds a way to bring joy into our lives. To have someone we can laugh with is a great gift. A dear brother, a kindred sister, a beloved husband, a precious wife, or a true friend is thus a welcome companion in this poor fallen world—a companion we can have fun with. Fellowship is an essential element of a healthy, well-balanced, and productive life. Happy then are the men and women who have known deep and abiding love.
Love always finds a way to engender the best in us. Love is built upon the foundation of sacrificial kindness. Common interests, shared backgrounds, coincident aspirations, and like minds go only so far in weaving the bonds of intimacy. More important than all these assumed attributes is an evident and demonstrable tenderheartedness. We will sacrifice our all in all for those we love. We will risk our lives with nary a thought. We will give up fame and fortune; we will alter our habits and expectations; we will change our appetites and desires; we will pursue virtue and fidelity.
Love always finds a way to sober, deepen and mature us. It leaves a lingering, lasting effect on our character. Its sundry benefits and kindnesses remain with us always. It inspires us. It continues to impact our thinking. It intrudes upon our daily concourse with a gentle but certain regularity. It causes us to ponder and reflect. It provokes us to remembrance. It is a kind of eternal trophy of a gracious endowment.
Love always finds a way to point us to the ultimate source of love. We can only love because we were first loved. Our love, as powerful as it is, remains but a dim reflection of the divine love which reached out to us while we were yet unloving, tended us while we were yet unlovely, and saved us while we were yet unlovable. "For God so loved the world that He gave His only begotten Son, that whosoever believeth in Him should not perish, but have everlasting life."
Indeed, love always finds a way. Edmund Spencer, the great English poet wrote that "such is the power" of love, "that it all sordid bases doth dispel, and the refined mind doth newly fashion unto a rarer form, which now doth dwell in his high thought, that would itself excel, which he, beholding still with constant sight, admires the mirror of so heavenly light."
The Apostle Paul memorably wrote to the Christians in the first century Corinthian church saying, "Though I speak with the tongues of men and of angels, and have not love, I am become as sounding brass, or a tinkling cymbal. And though I have the gift of prophecy, and understand all mysteries, and all knowledge; and though I have all faith, so that I could remove mountains, and have not love, I am nothing. And though I bestow all my goods to feed the poor, and though I give my body to be burned, and have not love, it profiteth me nothing. Love suffereth long, and is kind; love envieth not; love vaunteth not itself, is not puffed up, doth not behave itself unseemly, seeketh not her own, is not easily provoked, thinketh no evil; rejoiceth not in iniquity, but rejoiceth in the truth; beareth all things, believeth all things, hopeth all things, endureth all things. Love never faileth: but wheter there be prophecies, they shall fail; whether tere be tongues, they shall cease; whether there be knowledge, it shall vanish away. For we know in part, and we prophesy in part. But when that which is perfect is come, then that which is in part shall be done away. When I was a child, I spoke as a child, I understood as a child, I thought as a child: but when I became a man, I put away childish things. For now we see through a glass, darkly; but then face to face: now I know in part; but then shall I know even as also I am known. And now abideth faith, hope, love, these three; but the greatest of these is love."
The Scottish statesman and reformer Thomas Chalmers said that this passage revealed "a manifesto of optimism for every movement and a constitution of sanguinity for every nation that wished to work toward a free, happy, and certain future." As it was for so many of the brightest innovators and most insightful leaders of Western Civilization, he considered love to be an absolute that stood above all other absolutes. Indeed, as Lord Byron asserted, "All of human experience testifies to the fact that love is an absolute which trumps all others. Thus, to build a life, a family, a community, a nation apart from this central defining reality is to invite evil to prevail and disaster to dominate."
There is little doubt that we will face great challenges in the days ahead. These perilous times are fraught with evil. Difficulty lies in wait at every turn. Indeed, Indeed, in the 13 years since 9/11, there have been 23,780 separate deadly terror attacks carried out by Islamic Ji'hadists.
Even so, love is sufficient for the task. Love never fails.
If you found this blog post of interest, you might want to explore these Free Think University courses:
For this third party post in its full context, please go to:
© 2014. Grantian Florilegium. grantian.blogspot.com