Free Think University is pleased to announce another student scholarship, this one awarded by Foster and Lynn Friess in conjunction with the Left Right, Left Right, Forward March! initiative.
Mr. and Mrs. Friess have been leaders in the business and philanthropic fields.  They started the Left Right, Left Right, Forward March! movement last year in order to "bring together Americans from disparate political backgrounds to partner on projects that advance the common good, both nationally and in our communities, while restoring civility and cooperation to our discourse."
This week's scholarship winner was Connor Doran from the University of Maryland. Connor was one of approximately 300 students who participated in Free Think U Foundation's second annual CPAC student scholarship contest. He was awarded $1,000 for the fall 2013 term.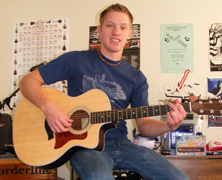 Connor is a Junior with a double major in Criminology/Criminal Justice and Government Politics. He first became interested in the legal field when he graduated from high school and he plans to pursue a career in law and politics after completing his undergraduate and Juris Doctorate degrees.
When Connor is not in the classroom or studying, he enjoys playing the guitar and singing for his band Borderline. He is a member of the University of Maryland College Republicans and the Sigma Phi Epsilon Fraternity. He also enjoys baseball, swimming, rock climbing and skiing.
"I look forward to everything that Free Think University has to offer and I plan to be an active member of the community," Connor said. "What's so great about Free Think U is that it truly allows you to set politics and partisanship aside so that you can do your own thinking about issues that matter to you.  The courses and the community of students involved do an excellent job at reaching out to young people like me who are trying to hear both sides of the story, learning about points of difference as well as common ground. I want to be more thoughtful in my dialogue with others about the issues that shape our society and that's why I am an advocate for Free Think U."
For more information on college scholarship programs, sign up for Free Think U's regular updates so you can participate at https://thinker.education/follow.