By Leah Hickman| (Source) 
Since the United States Supreme Court's 1973 Roe v. Wade decision, only seven of the 31 abortion cases to come before the high court had women as plaintiffs. All other plaintiffs have either been abortionists or abortion businesses. 
The Louisiana abortion case the Supreme Court heard Wednesday, June Medical Services v. Russo, keeps in line with the trend. 
The plaintiff is June Medical Services, a Shreveport, La., abortion business challenging a state law requiring abortionists to have hospital admitting privileges. The law, the plaintiffs say, puts an "undue burden" on women's access to abortion because it will force two of Louisiana's three abortion facilities to close. The key questions attorneys argued over: Are abortionists in a position to challenge the law on behalf of women? And are they representing women's best interests?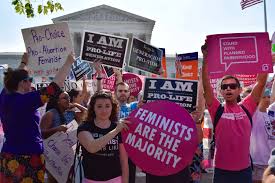 A decision upholding Louisiana's common-sense protection of women would not directly challenge Roe. But it would challenge the abortionists' ability to file suit against laws in the future and could challenge past precedents where women were not the plaintiffs. The decision could show where the two new Trump-appointed justices—Brett Kavanaugh and Neil Gorsuch—stand on the abortion issue. Sen. Chuck Schumer, D-N.Y., brought that aspect into focus when he threatened the justices Wednesday. 
Lawyer Julie Rikelman for June Medical Services argued that, yes, abortionists have a right to sue in this case because of Supreme Court precedents. She cited a 1976 decision in which the Supreme Court ruled an alcohol vendor could sue over a law restricting alcohol consumers since regulations affected vendors' businesses. Under the same reasoning, Rikelman argued abortionists could sue over hospital admitting requirements since the law limits the abortionists' ability to do their business.  
Justice Samuel Alito peppered Rikelman with questions and wondered whether June Medical Services' claim presents a conflict of interest: If women's constitutional rights are in question why are the abortion businesses allowed to bring the lawsuit?  
Chief Justice John Roberts and Kavanaugh dwelt on the other part of Rikelman's argument: whether requiring hospital admitting privileges is unconstitutional. Rikelman pointed to court precedent in a 2016 case from Texas, Whole Woman's Health v. Hellerstedt. In that case, the court said the requirement was unconstitutional since it forced multiple abortion providers to close. But Kavanaugh noticed a loophole: What if admitting privileges were easy for abortion providers to get? Would the requirement still be unconstitutional? Rikelman maintained complications in abortion procedures are so rare, the requirement serves no medical benefit to the women.   
But attorney Elizabeth Murrill, arguing the case for Louisiana, disputed Rikelman's assertion. She said "abundant evidence of life-threatening health and safety violations" from Louisiana abortion facilities validated the state's admitting privileges requirement. Records of failed abortions at the facilities were low because doctors don't follow up with the women and have no way of knowing their complication rates, Murrill said. That makes the requirement even more necessary. 
Some of the liberal justices balked at the law's requirement to gain admitting privileges at a hospital within 30 miles of the abortion facility. "What sense does the 30-mile limit make?" asked Justice Ruth Bader Ginsburg. Answering a similar question from Justice Sonia Sotomayor, Murrill said the requirement also ensures "continuity of care" for women. Requiring abortionists to follow through in cases of botched abortions demands a greater level of responsibility from them.   
Lawyer Jeffrey Wall, representing Louisiana, revisited the issue in his oral arguments. While state records show women sometimes develop complications during an abortion, he said the requirement could still benefit women who have the complications at home. "It's hard for me to believe that women in Louisiana wouldn't at least want the option to be treated by the doctor they saw at the clinic," he said. Denying women that option because abortionists can't or won't gain admitting privileges, he said, does pose a conflict of interest: "One is the interest of for-profit providers and not being regulated in particular ways. The other is the interest of women in their own health and safety."  
"There's a lot riding on the case," Louisiana Right to Life's Benjamin Clapper said after he left the oral arguments. Pro-lifers can reasonably hope for a favorable ruling, but he said it was hard to read some of the conservative justices. The questions from Kavanaugh and Roberts didn't reveal a clear leaning, and Gorsuch said nothing. Meanwhile, the liberal justices seemed "interested in being the 'abortion protection agency,' doing whatever they can to ensure that abortion businesses have no regulations on them." 
—— 
If you found this blog post of interest, you might want to explore these Thinker Education courses: 
For this third party post in its full context, please go to: 
© 2019. World Magazine.