By Naomi Schaefer Riley | In the spring of 2014, the Harvard Extension School Cultural Studies Club decided to drop its sponsorship of a Black Mass, the satanic ritual in which people dress up as members of the clergy and defile a communion wafer, which Catholics believe to be the consecrated host—that is, the body of Christ. The event provoked such outrage among campus Catholics that even Harvard president Drew Faust was forced to condemn the ritual—if not quite ban it officially from campus.
The Black Mass was ultimately held across the street from Harvard Yard at a Chinese restaurant, much to the chagrin of the campus Left. According to the report on the event in the Harvard Crimson, "Four individuals in hoods and one man in a white suit, a cape, and a horned mask were active in the proceedings, as well as a woman revealed to be wearing only lingerie." They didn't use a communion wafer.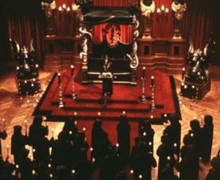 It was a surprising victory both for people of faith and for people of no faith who believe that faith deserves some respect. But members of the Cultural Studies Club could be forgiven for wondering what all the fuss was about. It is hardly uncommon to see the rituals and beliefs of religious students mocked, or even barred from campus. Whether it is a professor berating a religious student for supposedly irrational views or an administration banning a Christian group for not electing leaders who engage in homosexual behavior, antireligious bigotry seems to be the last acceptable prejudice on campus.
But these news stories tend to obscure some other important truths about religion on campus. First, people who graduate from college are more likely to be religious than those who don't. Religion has become the domain of the educated and the upper classes, as Charles Murray noted in his recent book Coming Apart. Writing in the Wall Street Journal, Murray compared two representative towns, working-class Fishtown and upper-class Belmont: "Suppose we define 'de facto secular' as someone who either professes no religion at all or who attends a worship service no more than once a year. For the early [General Social Surveys] conducted from 1972 to 1976, 29 percent of Belmont and 38 percent of Fishtown fell into that category. Over the next three decades, secularization did indeed grow in Belmont, from 29 percent in the 1970s to 40 percent in the GSS surveys taken from 2006 to 2010. But it grew even more in Fishtown, from 38 percent to 59 percent."
Some Belmont students go to religious colleges, but many more go to secular ones. The truth is that religious life on many secular campuses is thriving among students, even if it is frowned upon by the faculty and administration.
Campus Crusade for Christ, for example, has 25,000 staff members in 191 countries and $490 million in annual revenue, according to a 2011 article in Christianity Today. Its 1979 "Jesus Film" has been translated into 1,100 languages and watched literally billions of times. And Campus Crusade (now known as Cru) is only the tip of the iceberg. From Chabad and Hillel to the Newman Society and Catholic fellowships, from Muslim Student Associations and Buddhist groups to Jain societies and Hindu groups, there is no end to the ways that students can find their religious selves on campus.
Many of these organizations have mastered the art of appealing to young adults. They have professional-quality music blasted through excellent sound systems. The sermons are all tailored for young adults. These religious groups offer social activities and even service activities with a particular audience in mind—the eighteen-to-twenty-two-year-old set. Religion on campus is easily accessible in a figurative sense but also in a literal one. Religious services are across the street or a couple of blocks away, and there are bound to be other people there you know. Kosher meals are available with the swipe of a cafeteria card. Holiday celebrations are full of fun, good food, and none of the drama of extended family.
But the truth of the matter is that while these groups have succeeded in mobilizing young people, they have also made it more difficult for young people to enter grown-up, multigenerational religious institutions afterward. Sociologist Christian Smith says that even at Notre Dame, where he teaches, students who attend daily Mass get used to what he calls a "gourmet liturgy" and have trouble finding the same level of religious experience after graduation. One pastor told me that leaving college is like "jumping off a religious cliff."
Indeed, more than one religious leader has complained that college seems to turn young adults into spiritual consumers rather than spiritual producers. There are plenty of reasons why twentysomethings don't seem to be attending religious institutions in the numbers they used to. They're marrying later—a milestone that used to bring people back—and there is no longer a social stigma associated with not going to church. But one reason is surely that they are not used to being part of a regular religious institution—one with old people and children, one that can sometimes be boring, one that experiences tragedies as often as celebrations.
As college students plan their next steps after ­graduation—both personal and professional—they might think about how they can see religious institutions as more than sources of entertainment. Leaving the coddled world of higher education should challenge you to consider your role as a responsible adult in a religious community. To borrow a phrase: Ask not what your faith can do for you, but what you can do for your faith.
If you found this blog post of interest, you might want to explore these Free Think University courses:
For this third party post in its full context, please go to:
© 2014. The Intercollegiate Review.  www.intercollegiatereview.com