By Elise Foley | Democrats in Congress frequently accuse the GOP of attacking immigrants, and on Wednesday, House Republicans gave them more fodder by holding a hearing on whether the U.S. should continue the longstanding practice of granting citizenship to all children born here.
Some Republicans argue that birthright citizenship incentivizes unauthorized immigration and birth tourism. They add that the 14th Amendment, which states that "all persons born or naturalized in the United States, and subject to the jurisdiction thereof, are citizens of the United States," has been misinterpreted to apply to children of undocumented immigrants.
Rep. Steve King (R-Iowa) and Sen. David Vitter (R-La.) have both introduced bills this year to end birthright citizenship, but neither has gone for a vote.
Even if those bills never get a vote — and they likely won't — the fact that the issue got a hearing at all provided fuel for Democrats, who were fiery in their defense of the right for babies born on U.S. soil to be citizens.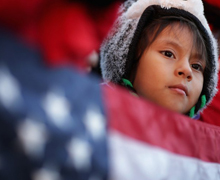 "This birthright citizenship legislation and a decision to hold a hearing on its merits are outrageous examples of just how far shameless Republicans are willing to go to demonstrate their hatred for immigrants," Rep. Maxine Waters (D-Calif.) said at a press conference, accusing Republicans of using the bill to stigmatize and sow hate for immigrants.
At the same press conference, Rep. Luis Gutierrez (D-Ill.) said, "In Spanish-language media there will be one more piece of evidence that Republicans will do anything and everything to keep their nativist wing happy."
House Minority Leader Nancy Pelosi (D-Calif.) issued a statement accusing Republicans of pandering "to the most radical, anti-immigrant corners of their party" and called the idea "one of the most loathsome, xenophobic proposals in recent memory." In a separate statement, Sen. Bob Menendez (D-N.J.) called the hearing "a humiliating reminder of the jingoistic insensitivity of the few toward multiculturalism and the changing face of America in the 21st Century."
The same day, a coalition of pro-immigration reform groups released a report detailing what it called the "2015 GOP mass deportation agenda."
Many Republicans, including Judiciary Committee Chairman Bob Goodlatte (R-Va.), defended the decision to hold the hearing.
"The question of whether our forefathers meant for birthright citizenship in all circumstances to be the law of the land is far from settled," Goodlatte said at the hearing. "In any event, we must still determine if it is the right policy for America today."
King was the most adamant that it was not the right policy. He questioned what would happen "to the demographics of America if this policy is not reversed," and implied that Democrats may support birthright citizenship because they want to win elections.
"I don't think I'm hearing an argument as to why it would be a good idea to grant automatic citizenship to any baby that could be born in the United States to any mother who could find a way to get into the United States," he said. "That hands over the immigration policy to everyone except Americans. So I don't know that that's even a debate before this committee unless you want to expand your political base by any means necessary."
Witnesses from the Republican side — John Eastman of the Claremont Institute's Center for Constitutional Jurisprudence, Jon Feere of the Center for Immigration Studies and University of Texas law professor Lino Graglia — all argued against granting automatic citizenship to everyone born in the U.S., either as unnecessary under the law or bad policy.
"It is difficult to imagine a more irrational and self-defeating legal system than one that makes unauthorized entry into the country a criminal offense and simultaneously provides the greatest possible inducement to illegal entry: a grant of American citizenship," Graglia, who was testifying on behalf of himself and not the university, said during his testimony.
Graglia's appearance gave another chance for Democrats to go on the offensive. He has a long history of racially insensitive remarks, from allegedly using the derogatory term "pickaninny" to saying black and Hispanic students cannot compete with white students and that it therefore was not "good for whites to be with the lower classes." Both Gutierrez and Subcommittee on Immigration and Border Security Chairwoman Zoe Lofgren (D-Calif.) brought up his past comments during the hearing.
If you found this blog post of interest, you might want to explore these Free Think University courses:
For this third party post in its full context, please go to:
House Republicans Go After Birthright Citizenship
© 2015. Huffington Post.  www.huffingtonpost.com
Tags:
Excerpt:
Alt Title:
Born in the USA?