By Gina Diorio | Confirming the pro-life trend of recent years, a new report by the pro-abortion Guttmacher Institute shows that the abortion rate nationwide has fallen to its lowest point since 1973, the year the U.S. Supreme Court declared abortion legal.
According to the report, the U.S. abortion rate in 2011 fell to 16.9 abortions per 1,000 women between the ages of 15 and 44. This is a steep drop from the highest level of 29.3 abortions per 1,000 women, recorded in 1981. In 1973, the rate was 16.3 per 1,000 women.
"Between 2008 and 2011, the abortion rate fell 13 percent, resuming the long-term downward trend that had stalled between 2005 and 2008," the Guttmacher Institute said in a press release. "The number of abortions (1.1 million in 2011) also declined by 13 percent in this time period."
While the overall abortion rate has declined, the study found an increase in early medication abortions as a percentage of non-hospital abortions, from 17 percent in 2008 to 23 percent in 2011.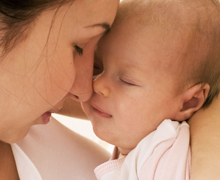 Changes in the abortion rate varied by region. The biggest declines came in the Midwest, with 17 percent, and the West, with 15 percent. The number of abortions dropped by 12 percent in the south and 9 percent in the Northeast. The few states were the number of abortions increased still had overall rates lower than the national average.
Although the study did not delve into the reasons for the drop, the authors largely discount the recent rise in state-level pro-life legislation as a primary factor, noting that the time period examined, between 2008 and 2011, "predates the major surge in state-level abortion restrictions that started during the 2011 legislative session."
Chuck Donovan, president of the Charlotte Lozier Institute, the education and research arm of the pro-life Susan B. Anthony List, lauded the decline but offered a word of caution and emphasized the need for more research. "The Guttmacher data is based on completely voluntary reporting by abortion providers," he said. "Until we have consistent reporting requirements, inclusive of states with high abortion rates and gathered by publicly accountable bodies, we cannot begin to paint a complete picture of U.S abortion trends."
National Right to Life President Carol Tobias said in a statement the report "shows the long-term efforts of the right-to-life movement to educate the country about the humanity of the unborn child," but ignores the impact public debate has had on this downward trend. "The more Americans learn about the development of the unborn child and the tragedy of abortion, the more they reject abortion as a legitimate answer to an unexpected pregnancy," she said.
Now an independent entity, the Guttmacher Institute was founded in 1968 as an arm of Planned Parenthood.
For this third party post in its full context, please go to:
http://www.worldmag.com/2014/02/women_reject_abortion_at_highest_rate_since_1973
© 2014. World Magazine. www.worldmag.com