By Barnabas Piper | DeSean Jackson is an explosive wide receiver known for big plays and blazing speed. Last season was the best of his career with the Philadelphia Eagles: He caught more than 80 passes for 1,300 yards and scored nine touchdowns. In this era of air-it-out football, Jackson is a coveted weapon for teams in the National Football League. There are only a handful of players who defensive coaches actually build schemes to stop; Jackson is one of them. Yet, [recently], the Eagles released him.
Why would a team coming off a playoff season release such a player? Speculation ran rampant among fans and sports media alike. Jackson has a reputation as a hothead who can be difficult to coach. He has rubbed coaches, teammates, and opponents the wrong way over the course of his career. Then a bigger story broke: On the day he was released NJ.com posted a story linking Jackson, who was raised in inner-city Los Angeles, to a gang. Was he was let go because of these ties and the possible connection to illegal activity? That's how the narrative formed: an uncoachable guy with questionable character and ties to criminal activity was justifiably cut loose.
Here's an alternate story. In 2013, the Eagles hired a new head coach, Chip Kelly, known for running an explosive offense with the ability to feature a variety of players. He immediately set about bringing in players he is comfortable with and who fit the system. This is Kelly's first full off-season to reshape the roster to his liking, and Jackson doesn't fit in to Kelly's offensive plans. Jackson isn't a bad guy overall. In fact, he's known for his work in the community and for helping bullied kids. But he's not great for the team Kelly is putting together. Plus, the Eagles owed him $32 million. So Jackson was released. It was a business decision.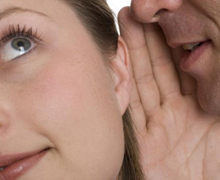 It's easy to assume the worst and believe everything we're told. But we must be careful what narratives we accept. The most sensational, while eye-grabbing, isn't often the most likely. Jackson defenders have come out in the days since the NJ.com story broke to say that Jackson isn't tied to a gang. Teammates have come to his defense and expressed their disappointment to see him go. Then on Wednesday, the Washington Redskins, one of the Eagles' rivals, signed Jackson to a lucrative contract, indicating their trust in him.
Sensational, baseless stories do damage that is slow to be repaired. Even if they are disproven, the accusation or implication leaves stains. DeSean Jackson is just the latest instance of speculation hurting someone's reputation. In the news media, such speculation must be couched carefully so as not to be libelous. In other instances it's slander. It happens in the workplace, the church lobby, and over the backyard fence in the neighborhood. We hear the slander and we share it, turning it into gossip. It's like Charles Spurgeon (not Mark Twain, ironically) famously said, "A lie will go round the world while truth is pulling its boots on." We must be careful which narratives we give wings to, because once they fly there is no catching them.
For this third party post in its full context, please go to:
http://www.worldmag.com/2014/04/when_false_narratives_fly
© 2014. World Magazine, www.worldmag.com