By Joseph Knippenberg | I have mixed emotions about Troy University's plan to offer faith-based campus housing. On the one hand, it seems like the careful kind of accommodation of faith in a public setting that I favor.
The five-acre property is leased from the university by Troy's foundation, a private, non-profit entity, which paid for the two buildings that comprise the housing facility, using funds from a local bank.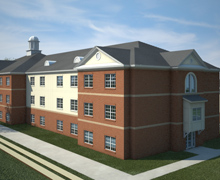 That avoids legal conflicts between religion and the public dollars that Troy uses for operational expenses. Troy's foundational money is comprised of private donations, not tax dollars.
Since the Freedom From Religion Foundation is complaining about it, the facility even has the right sorts of opponents.
I have to concede, however, that the FFRF complaint doesn't seem to me altogether without merit. It is, I think, a close question as to whether the kind of "discrimination" in this case is constitutionally permissible. The FFRF wants to associate the University very closely with the relatively loose and nondenominational expectations–maintaining "an active spiritual lifestyle" and "an active engagement in a campus faith based organization"–connected with the eligibility for this housing. From where I sit, it depends upon whether dorm residents are more like people served by an organization or people participating in one. In the former instance, there's a strong argument against government support for groups that serve only co-religionists. In the latter case, there's a strong argument for faith-based employment criteria. If we accept the former analogy, the case against Troy's arrangement is stronger. If we accept the latter, it would seem to pass muster.
There's also the question of Alabama and federal fair housing laws, which prohibit discrimination on the basis of religion. While I presume that explicitly religious housing–e.g., a monastery–is exempt, I doubt that that's the appropriate analogy in this case. Again, since the university provides housing for students somewhere, perhaps it can escape the strictures of the law.
Leaving aside these First Amendment questions, I'm just generally leery of the state's decision to compete with religious colleges and universities. If Alabama wants to provide options for people who want a faith-based college experience, there are plenty of religious colleges and universities ready, willing, and able to educate students. Why not provide vouchers, rather than housing opportunities on an otherwise secular campus?
For this third party post in its full context, please go to:
http://www.firstthings.com/blogs/firstthoughts/2013/08/05/faith-based-dorms-at-public-universities/