By Sarah Pulliam Bailey | (Edited for size)  Antiabortion activists see new undercover videos of Planned Parenthood as their biggest opportunity since the 2011 Kermit Gosnell trials to energize support for the issue.
Planned Parenthood, which many antiabortion activists see as the face of abortion, has long been under attack, but the videos have set off renewed debate over its federal funding.
U.S. Senate Majority Leader Mitch McConnell (R-Ky.) is planning a vote in coming days on proposed legislation halting federal funding for Planned Parenthood. With 54 Republicans and a handful of antiabortion Democrats, it would be difficult to find the 60 votes needed in the Senate. Still, antiabortion activists are eager to seize the moment politically.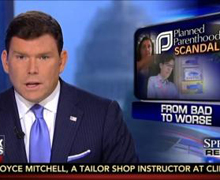 Activists gathered today in 64 cities across the United States to rally against Planned Parenthood, drawing an estimated 12,000 people, according to Kristan Hawkins, president of Students for Life of America. Sen. Rand Paul and physician Ben Carson, Republican contenders for president, spoke in Washington, D.C., to about 400 people, according to Hawkins. Using the hashtag #WomenBetrayed, activists have been fueled by undercover investigative videos released by the Center for Medical Progress this month.
On Tuesday, a new video was released showing a clinic's staff handling fetal tissue after an abortion. Planned Parenthood has not released an official statement responding to the third video.
Activists say there has been a reinvigorated focus on Planned Parenthood since the videos came out, said Kelly Rosati of Focus on the Family. "I think we're seeing an intensity and scope of response, and I think we're going to see more as more videos come out," she said.
The group behind the videos says the footage from the first two videos shows that Planned Parenthood is illegally harvesting and selling fetal organs. Planned Parenthood says it has done nothing wrong and that the videos were edited to support activists' false claims. Planned Parenthood's president, Cecile Richards, apologized for the "tone and statements" in the earlier videos.
Of its $1.3 billion budget, $528 million comes from the government, according to Planned Parenthood's most recent annual report. Government funding prohibits money from going directly to funding abortions.
Americans' attitudes toward abortion depend on how researchers ask questions. In 2012, the General Social Survey found that a majority of Americans said a woman should be able to obtain an abortion if there is a strong chance of a birth defect (70 percent), if the pregnancy was caused by rape (72 percent), or if the women's health is in serious danger (83 percent).
A newer generation of antiabortion activists has harnessed new media tools to get out their message. It's difficult to measure the potential influence of videos that rely on word-of-mouth, or in 2015, through social media.
"In the days of YouTube where some videos can get a million hits, this is unfiltered where anyone can watch it. Twenty years ago, maybe it would run once on CNN," Smith said. "It could have potential power because of the new type of media has emerged."
Republicans and antiabortion groups are showing no signs that they will let the issue fade from the public eye. In an effort to respond to the ongoing attention, Planned Parenthood has hired high-profile Washington public relations firm SKDKnickerbocker. Requests for comment from Planned Parenthood were not returned by deadline.
The videos have put some Democrats on the defensive. Senate Minority Leader Harry Reid (D-Nev.) said he has seen no indication that the organization broke federal laws, but that "should be looked into." Sen. Tim Kaine (D-Va.) told radio host John Fredericks that the reports were "very troubling." Three congressional committees are making inquiries on the issue.
Democrats are also calling for a federal investigation that would determine whether the Center for Medical Progress, the group that released the videos, engaged in illegal activity when posing as a fake research company to speak with Planned Parenthood officials. Hackers targeted Planned Parenthood's Web site this week.
"The folks behind this are part of the most militant wing of the antiabortion movement that has been behind the bombing of clinics, the murder of doctors in their homes and in their churches," Planned Parenthood's Richards said on ABC News on Sunday.
It might be too soon to tell whether the activism will disappear after the buzz from the videos dies down or whether a new generation of antiabortion activists will sustain its level of interest. Previous undercover videos spotlighting Planned Parenthood were less sophisticated, and a younger generation is shifting its messaging, said Charles Camosy, a theology professor at Fordham University and author of the recently published "Beyond the Abortion Wars."
"A lot of the activism hasn't taken place in the era of Twitter," Camosy said, noting how Students for Life Changed its hashtag from #DefundPlannedParenthood to #WomenBetrayed, reflecting a shift in focus toward women. "A new generation has put women up front and center."
If you found this blog post of interest, you might want to explore these Free Think University courses:
For this third party post in its full context, please go to:
How the Planned Parenthood videos set off a renewed wave of activism on abortion
© 2015. The Washington Post.  www.washingtonpost.com