Does man bring angels to awe or a blip in the timeline of evolution?  Man has debated his position in the cosmos for millennia.  Explore the discussion here, and make up your own mind.  AVERAGE TIME: 2 HOURS. 1,000 IMPACT POINTS.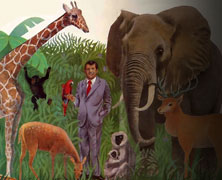 A full press release on this new course can be read here:  http://bit.ly/1fs9Lel
Sign in to the class here to learn more about this course experience, which is free for students and will qualify them to participate in America's fastest-growing college scholarship fund.