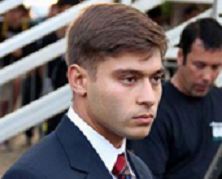 By Cato | Free Think U Foundation is proud to announce its most recent scholarship winner, Ruslan Gurvits, a Junior Economics major and Public Policy minor who attends the University of California, Berkeley. Ruslan is dedicated to education, and has developed the Economics Tutoring Program at Diablo Valley College. He has also extensively volunteered at local healthcare facilities assisting the disadvantaged in his community.  He was recognized with the President's Call to Service Award for his efforts.
According to Ruslan, Free Think U's social media movement is "an ultra-accessible resource that provides students with another perspective on The Big Questions.  It is important that students from all political leanings are introduced to different perspectives in order to make more informed decisions."
"I enjoyed the Free Think U courses very much and will be encouraging my friends and cousins to complete them as well," Rulsan wrote in an email.  "They're very informational."
"Rulsan is an example of the rising generation of leaders that Free Think U exists to serve.  We want to identify students who are willing to think critically and then equip them and reward them as they join The Great Conversation, and set out to shape the future of our society," said Jim Van Eerden, FTU's Dean.
Ruslan plans to pursue a joint JD/MBA Degree in the near future. The Free Think U scholarship he has earned this month totals $1,000 and has been disbursed directly to Berkeley's Financial Aid Office to apply toward Ruslan's tuition costs in the Winter Term.