By Leslie Ford | An administrative law judge in Denver, Colorado—a state that constitutionally defined marriage as the union of a man and a woman in 2006—has declared that Jack Phillips, owner of Masterpiece Cakeshop, violated the law when he refused to bake a cake for a same-sex wedding.
When a same-sex couple married in Massachusetts asked Phillips to bake a cake for a reception celebrating their union back home in Colorado, Phillips declined on the basis of his faith: "I don't feel like I can participate in their wedding, and when I do a cake, I feel like I am participating in their wedding."
After the American Civil Liberties Union filed a complaint against Masterpiece Cakeshop with the state for alleged violations of Colorado's public accommodation law, Administrative Law Judge Robert N. Spencer ruled on December 6 against the bakery, concluding that Phillips refused service to the couple "because of their sexual orientation."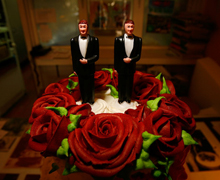 Phillips objects to this characterization and responded that that he would happily sell the couple his baked goods for any number of occasions, but baking a wedding cake would force him to express something that he does not believe.
Phillips argues that he has a right to run his business in accord with his conscience:
The United States Constitution as well as the Colorado Constitution both protect my right to freely practice my religious beliefs while I am at my work.
Americans do not need to leave their religious beliefs at the door to provide for their families.
The decision against Masterpiece Cakeshop is another instance of state governments punishing people who believe that marriage is the union of man and woman. Wedding-related businesses are specifically at risk.
Elaine Huguenin of New Mexico–based Elane Photography is appealing to the Supreme Court for protection against the coercion of her artistic talents for declining to photograph a same-sex commitment ceremony. Last summer, an Oregon bakery, Sweet Cakes by Melissa, was forced to shut its doors to evade fines for declining to bake a cake for a same-sex wedding ceremony. Washington state florist Barronelle Stutzman, owner of Arlene's Flowers and Gifts, was fined $2,000 for running her business in accord with her religious beliefs, choosing not to design floral arrangements for a same-sex wedding.
Federal and state governments should respect citizens' fundamental freedoms. State policymakers should make laws that protect the right of all American citizens to live out their beliefs where they work, when they speak, and when they serve others.
For this third party post in its full context, please go to:
http://blog.heritage.org/2013/12/18/colorado-baker-faces-fines-religious-beliefs/
© 2013. The Heritage Foundation.  http://www.heritage.org/