By Tyler Kingkade | The Huffington Post | College students who graduated with bachelor's degrees in 2011 left school with the largest average student debt load in history, according to a new report.
The class of 2011 came out with an average of $26,600 in student loan debt, a 5 percent increase from $25,250 in 2010, according to the Project on Student Debt at The Institute for College Access & Success.. The increase, in line with recent years, shows student debt continues to grow faster than inflation.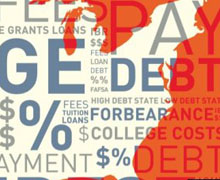 "As debt levels rise, fear of loans can prevent students from getting the education they need to succeed," said Lauren Asher, president of The Institute for College Access & Success, a nonprofit research and advocacy group. "Students and parents need to know that, even at similar looking schools, debt levels can be wildly different. And, if they do need to borrow to get through school, federal student loans, with options like income-based repayment, are the safest way to go."
States where student debt is highest were concentrated in the Northeast and Midwest, while low-debt states were mainly located in the West and South. Two-thirds of all graduates in 2011 had student loan debt, according to the report, "Student Debt and the Class of 2011." The report focused on four-year public and nonprofit private colleges.
To see a slide show on the ranking of the 14 states with the highest average student debt go to the Huffington Post blog here.
New Hampshire leads the nation in student loan debt, with the average 2011 graduate carrying $32,440. The state was third for proportion of students who borrowed to attend college, with 75 percent carrying debt.
North Dakota and South Dakota led in the percentage of students who borrowed for college, at 83 and 76 percent respectively. Although tuition in the Dakotas has grown slower than in many other states.
California has been the center of some of the most dramatic cuts to higher education funding in recent years. Still, the state ranked third from the bottom, with an average of $18,879 in debt for 2011 graduates.
Utah was at the very bottom of the ranking, where students carry an average of $17,227 in debt and only 45 percent took out loans for their higher education.
The report relied on voluntary reporting from the schools.
"Voluntarily reported data is all that we've got to shed light on how debt at graduation varies from school to school and year to year," said the report's primary author Matthew Reed. "Students need reliable information for all schools, and colleges that consistently and accurately provide their own debt figures deserve a level playing field."
Fewer than 2 percent of for-profit four-year colleges report debt figures for the class of 2011, the report said. "Almost all graduates from for-profit four-year colleges (96 percent) took out student loans, and they borrowed 45 percent more than graduates from other types of four-year colleges," the report noted.
Students who attend for-profits are twice as likely as students in other schools to default on their loans, the report said. For-profits have been fighting regulations proposed by the Obama administration to require disclosure of loan information to students.
The report recommended simplifying loan explanations to students and steering borrowers away from private loans. The group also called on Congress to treat private student loans like other consumer debt, which can be discharged in bankruptcy. Congress excluded private student loans from bankruptcy in 2005.
For this third party post in its full context, please go to:
http://www.huffingtonpost.com/2012/10/18/average-student-debt-by-state_n_1975638.html