By Greg Lewin | A Letter to the Class of 2018
Congratulations! You've been accepted into college! If I may, I'd like to share some of my ideas on what it means to go to college, and how to select a college and college program that will prepare you for all of the important things you want to accomplish.
Looking back, it's amazing to examine how much changes between the ages of 18 and 22. According to law, when we turn 18 a switch is flipped and we become adults. Suddenly we can vote, we can choose where we live, we can decide what classes we take in college.
Choosing which courses to take in college may not seem like a huge decision. Checking boxes to fulfill a patchwork of requirements seems almost too easy. But in essence, you are asking yourself, "What knowledge will equip me with the wisdom required to make life's big decisions?"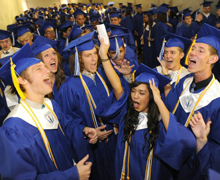 At least, that's what you should be asking yourself. That particular question was never posed by Freshman Greg. Instead, Freshman Greg set to tackling such imponderables as, "Will this class fit in my schedule?" "Will this professor be fun?" and "Does putting hot dogs in my oatmeal count as breakfast or dinner?"
At 18, I did not identify the gaps in my fundamental knowledge. I did not choose classes that would help fill these gaps and prepare me for the real world. Though legally I was an adult, truthfully I was a college kid who didn't know any better. And no one told me otherwise.
In fact, colleges across the country have loosened curricular requirements to attract more students. It's the same reason why so many schools are building state-of-the-art facilities (and passing the bill onto the students in the form of increased tuition prices). Today, according to the What Will They Learn?™ study, less than 40% of colleges require a college-level literature course. Just 18% require an American history or government course, and a paltry 3% require economics.
It worries me that in times like these, so many students are graduating without fundamental courses that I—and quite a number of employers—believe are important for life beyond college. That's why I have worked on this study for the last 3 years. Of the nearly 1,100 schools that I evaluated last year, only 22 earned an "A" rating in What Will They Learn?™ for the strength of their curriculum. Some are small private schools enrolling a few hundred kids, but a school need not be tiny to be selective about its academic program. The president of the University of Georgia, an "A" school which boasts an undergraduate population of over 26,000 students, recently made a statement about our evaluation. I think his words perfectly sum up the vision that informs a well-designed academic program:  "In an era of cafeteria course loads at many places, where students are free to choose from an array of courses, this place has remained steadfast in the belief that in the first two years, all students should have a similar liberal arts foundation laid in preparation for the specialization to come."
It is true that students can get a great education from almost any school in the country. The bad news is that the quality of their education is, in many cases, up to them, and many schools will provide little guidance. Students who want a solid foundational education don't have to go to one of the 22 colleges that earn an "A" rating. They can build their own education—and I hope our study serves as a guide for the type of education that employers want, our country needs, and will serve students long after graduation.  But at many colleges and universities, the burden will be on them to make these informed choices.
John Engler, former governor of Michigan and president of the Business Roundtable, has noted with alarm the shortcomings in college curricula: "Too few schools require their students to develop a firm grounding in core subject areas, the foundation upon which later expertise can be built. This does a disservice not only to the students but also to employers seeking the capable, well-rounded employees they need to compete in the global economy."  In other words, there are consequences in the job market for poor choices in college.
The fact is, even if some students are well-prepared for college, many will not have studied literature, science, math, economics, and the other fields of knowledge essential for success at a truly collegiate level.
Knowing what I now know, I wonder why the adults often "dumb down" existing requirements and ignore the existing gaps that allow students to graduate without the skills and knowledge that will help them succeed after graduation.
If I could go back and give some advice to Freshman Greg, it would be to not only take courses that pique my interest or fit conveniently into my schedule, but also to take a wide array of foundational courses that would help me in the future.
For this third party post in its full context, please go to:
http://www.goacta.org/the_forum/dear_new_college_students
© 2014. The American Council of Trustees and Alumni.  http://www.goacta.org/