By Mike Scott | When Oscar-winning filmmaker Davis Guggenheim signed on to make a movie about teenage activist Malala Yousafzai, he knew there was an undeniably inspiring story in her headline-grabbing journey. It's not every day, after all, that a teenager wins the Nobel Peace Prize, as Malala did last year.
But what Guggenheim ("An Inconvenient Truth," "Waiting for Superman") found in Malala — and how deeply he was touched by her spirit — surprised even him.
"Maybe the greatest privilege of my life," Guggenheim said in describing his own journey in making the documentary "He Named Me Malala," scheduled to open in … theaters on Friday (Oct. 9). "To meet this girl and to know her father and her family — the greatest privilege of my life. I'm going to retract the word 'maybe.'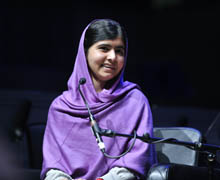 "To me, of all the movies I've ever made, this one has inspired me the most, just by being in proximity to her and her father," Guggenheim continued. "… I didn't really know where the story was going to go, but there's something so wonderful about this family. They really made me come home to my home and say, 'What kind of father am I? What kind of family do we have? I have two daughters. Do my daughters feel as equal, as empowered, as Malala feels?' These last two years working with them making this movie has really played a big influence on me."
His hope is that "He Named Me Malala" plays just as big an influence on those who see it.
Going in, the basic facts of Malala's story were already familiar to Guggenheim, just as they are to so many others around the word, given the amount of publicity it has received: At age 14 and then still living in the Swat Valley region of Pakistan, Malala was on her way to school when she was ambushed and shot in the head by a Taliban gunman in an effort to silence once and for all her vocal, years-long advocacy of education for girls.
That bullet didn't silence her, though. It strengthened her. After recovering from her wounds, which left her paralyzed on the left side of her face, she went back to work, using her voice — tiny but so very, very resonant — to continue to try to effect change, not just in Pakistan but also in the many other areas of the world in which girls and women are marginalized by their own leaders.
In the process, she's become a global superstar, the approachable, embraceable epicenter of an international movement and a person whose celebrity crosses cultural lines, both abroad and at home. Since recovering from her shooting, she has spoken before the United Nations General Assembly. She has met with world leaders. She has rubbed elbows with Hillary Clinton and Syrian refugees alike. She has told her story to Jon Stewart on "The Daily Show" and performed card tricks for Stephen Colbert on "The Late Show."
At nearly every step, she has been greeted as a hero.
While Guggenheim admits it's a challenge to tell a story that people think they already know, he said those who go to see "He Named Me Malala" will find a richer, deeper story than the one they've already heard.
"It's (not) a story about a girl who won the Nobel Peace Prize, and it's not about a girl who was shot on the school bus," he said. "The girl who was shot on the school bus is a victim story, and it's not a victim story."
To dig in and tell her real story — that other story — Guggenheim spent hours upon hours with the Yousafzai family, getting to know them over dinner in their home, traveling with them on a tour of a Syrian refugee camp in Jordan, tagging along as Malala's work took her to Kenya, to New York, to California.
As a father of three children — a boy and two girls, the youngest of whom is the same age Malala was when she was shot — Guggenheim found himself moved by what he observed. That goes for what he saw in Malala, of course, but also for the character of the family that lit that spark of social justice inside her, and which has continued to foster it and support her cause.
It's that story — the story of a loving family whose members are dedicated to one another as well as to something larger — that affected Guggenheim so deeply. It's also the story he decided to tell in "He Named Me Malala."
"The movies I work on start to work on me," he said. "I would leave a day with them and I'd go, 'Oh, my God, what kind of father am I? Do I really believe my daughters are equal to my son? Do I really do everything I can to make them feel as confident as Malala feels? Man, if this man in Pakistan, this very paternalistic society, can make her feel that way, what am I doing?'
"I didn't love how I answered the question."
But to Guggenheim, there's value in merely by asking that question — and prompting others to do the same — especially a world in which fear and hate too often drown out messages of hope and love.
"Look at what's happening now in the newspaper," he said. "There's a picture of this little boy drowned in the sea, and turn the page, millions of immigrants coming into Hungary, turn the page — I don't want to think about it. I don't want to go there. I think it's scary to really see the world as it is.
"That's why this movie is so important to me. It's very hopeful. It's very heroic. It's something you can bring your kids to. It's very funny. And it's a story of someone who decided to step in and how it's changed her life."
He hopes his film will be a conduit through which Malala's story, and the Yousafzai family's story, will inspire a new generation of Malalas to take action — and take charge.
"What if a girl in Sherman Oaks in California, or a girl in Japan or a boy in Louisiana said to their father, 'Let's go see this'?" Guggenheim mused. "I had that instinct about it. Sometimes I need that kind of premise to make a film."
He continued: "My dream is that girls everywhere feel like this is their movie, and it'stheir story and they ask their parents to take them to this movie and that it's more than a movie — it's a movement. …
"(Malala) should be known by the action she took — that she's an ordinary girl who made a choice to speak out and find her voice. Gosh, if my daughters feel like they can step in, that they find their voice and they feel confident to speak out when they see something unjust, that would be the only thing I would ever hope for this movie, is to inspire people to do that."
If you found this blog post of interest, you might want to explore these Free Think University courses:
For this third party post in its full context, please go to:
'He Named Me Malala' director Davis Guggenheim says his new documentary isn't the movie people might expect it to be
© 2015. The New Orleans Times-Picayune.  www.nola.com